Problem
I am working with *.hdf data from the RITA-2 instrument at SINQ and am interested in using Mantid to access the following data paths:
tmp_det_counts_path = 'rnum/entry1/data/counts'
tmp_H_path = 'rnum/entry1/sample/Qh'
tmp_K_path = 'rnum/entry1/sample/Qk'
tmp_L_path = 'rnum/entry1/sample/Ql'
tmp_E_path = 'rnum/entry1/sample/energy_transfer'
tmp_mon_path = 'rnum/entry1/control/data'
tmp_UB_path = 'rnum/entry1/control/orientation_matrix'

Minimal example
ws_current = LoadSINQ(Instrument='RITA-2', Year=str(datayear), Numor='00'+str(rnum))

Commentary
In the resultant MDHistoWorkspace, I can then extract the following:
tmp_det_counts = ws_current.getSignalArray()
x_tmp = ws_current.getZDimension()
y_tmp = ws_current.getYDimension()
z_tmp = ws_current.getXDimension()

I can access 'sample logs' by right-clicking on the MDHistoWorkspace in the GUI. This displays incident energy, energy transfer, monitor, Qh, Qy and Qz data (see screenshot below). These can be imported and converted to TableWorkspaces using the GUI
However, I have not been able to find a way to do this within script - 'show history' functionality does not work on a TableWorkspace created in this way. There also does not appear to be a way to access the orientation matrix.
Not being able to access Q values or orientation matrix, I have tried to set the UB manually (found using NeXpy) and convert to DiffractionMDWorkspace. But since ws_current is not a Workspace2D or EventWorkspace this does not appear to be possible.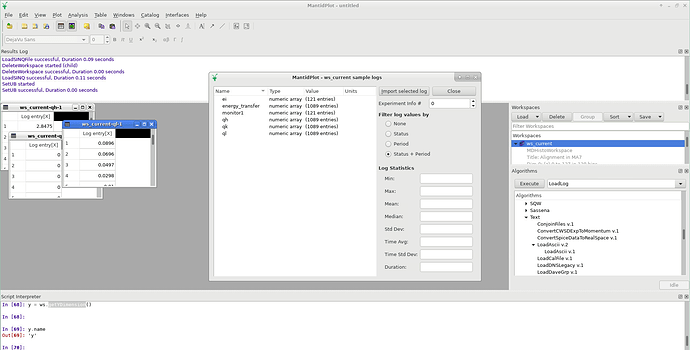 Questions/remarks
Is there any information I am missing that would allow me to extract the data of interest within script?
I have looked at the API reference and I suspect this issue is ignorance on my part, but have not been able to find a solution yet.
Thanks in advance,
Lewis